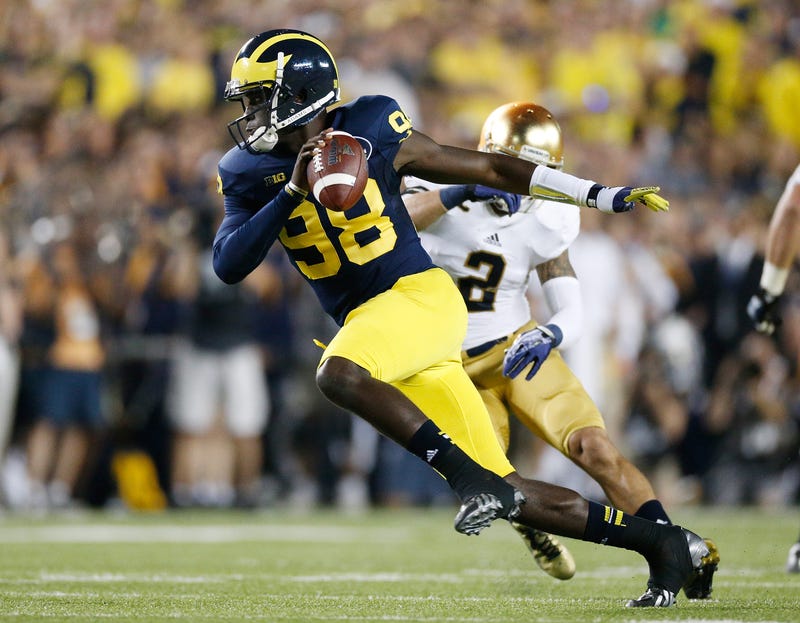 This is a pre-emptive warning to my alma mater: Don't you ever fucking put No. 44 on any men's basketball player, for any reason, ever. I'm saying this because I know the thought will cross your mind and some point in the future, but I am ordering you: Do not fucking do this.
This is an issue because Michigan is a big-time athletics program and last night Michigan dragged out No. 98, which it retired for a Heisman Trophy winner from more than 70 years ago. In any collegiate setting, the urge is to mimic prestige. It's why Duke built everything on campus with quick-weather stone and Georgia pretends it is the first state university. It's why South Carolina fans, whose last conference championship was in the ACC, chant S-E-C.
So at some point, someone over at N.C. State is going to get the idea to put David Thompson's 44 on the back of an active men's basketball player, and then I'm going to drive to Raleigh, find everyone in the chain of command responsible for that, and start punching dicks like I'm Chris Paul.
I realize it is just as silly for me to get worked up over the concept of a retired number as it is for a university to unretire a couple of digits for some bread-and-circus showcase at the beginning of the season. But words and actions should have meaning, and the decision to retire a jersey is kind of, you know, an ultimate thing. It's a hall-of-fame class honor. It means the person who wore it is so beloved, his or her deeds so special, and the number is so identified with those contributions that, from now on, if you ever hear someone introduced by that number, you will be in the company of greatness.
---
Returning a number to service isn't returning the player to the field.
---
Returning a number to service isn't returning the player to the field; it's kicking him out of a club of, one assumes, athletes who made the greatest contribution to the university's life in their time there. While professional teams do their own stupid shit regarding retired numbers, it matters more in college because theoretically, all they're playing for is a legacy. And yes, as an alumnus, I'm entitled to give a damn about my university's history, thank you very much. I have no standing to lecture Michigan on its practices; but big-time teams do set trends. (Look at Maryland's awful stripper costumes as the Oregon of the East.) If this kind of thing ever happens at N.C. State, for any reason, then I'm gonna go apeshit.
No, I don't really care if the honoree, if living, or his family if he's dead have no problem with it. Mark Harmon said as much last night. Of course he did. What's he going to do, be a dick about it to his old man's university? It's an extraordinarily coercive thing to suggest that number should come out of retirement for a day, the rest of the season, or as long as a player wants to wear it. It may sound ridiculous to pretend to own a number, but the university itself said you do, seventy goddamn years ago. It's a cop-out that, because someone doesn't wish to be twice as tacky as you are, everything is OK now. (Although, if I were Frank Tripucka, I would have pitched a goddamn fit. "If Peyton Manning wants to wear No. 18, he can wear it on those godawful Taco Bell uniforms for the rest of his career, too."
Nor are the players themselves responsible in any way. It's fine to argue that Devin Gardner may end up cheapening his own legacy by dressing up in Harmon's number, but what do you expect him to do or say after the university makes the option available? It's distinctive, it's intended as an honor, it puts him in the spotlight. Shit, even if 98 wasn't retired, I'd wear it. I love crazy numbers at weird positions in college football. It's like a receiver who kicks field goals.
The blame for all of this goes back to the promotions directors and administrators who cook up the idea in the first place. Michigan wanted to pull out all the stops for its final game with Notre Dame, as if that contest wouldn't be meaningful enough on its own. (Though, you might be surprised to learn that Tom Harmon himself never played against Notre Dame, as this series really did not become an annual rivalry until 1978.) And I guarantee that once Michigan does it, Ohio State will follow, or Texas, and then everyone will try it because that's what a big-time program does now. That's real good thinking there. That's Randy Edsall-level thinking there.